Let me start off by saying that the site's not going anywhere, I know that some people are going to (justifiably) worry when the read the rest of this. Some things will change, nothing really drastically, but the site is not going away. In the absolute worst case I'll turn it over to someone else to maintain.
With that said, I'm writing this to let everyone know that on July 1st of this year, I lost my job. Technically my position was just eliminated and my contract not renewed, but the real reason was because of my health problems. Nothing can be done about this, I live in an "at will" employment state anyway and they made sure to do this in a way that they don't look like they were discriminating against me because of my health.
Since then I've been looking for another job. I pretty much have to find work in the area I live now, again because of my health (in the past year I've had at least 6 ER visits and two surgeries). Unfortunately, my field (Information Technology) is in pretty bad shape due to both the dotcom crash back several years ago and the new trend of outsourcing. In this area in particular IT jobs are fairly scarce and I've been unable to find another job so far. I had what was a promising interview back in August for a job (that would have paid more than my old one even) but that one fell through once they contacted my references and found out about my health problems. So far I've not gotten calls for interviews for any other jobs I've applied for.
Since finding a job hasn't worked I'm going back to school to get a Masters degree. This has been a bit touch and go as I started late (mid October) since I had hoped to find a job instead. Getting admitted to the grad school wasn't a problem, I was previously admitted as a grad student before I got my first real job after getting my Bachelors. However, I can't get admitted to a degree program yet because I haven't taken the GRE, and that prevents me from getting financial aid. So, I've been trying to find an assistantship so I can get a tuition waver as well as a source of income. Right now it looks like I have found one, although I don't know all the details yet (like how much it'll pay or when I'll start exactly). Spring semester starts in January so by February I should be getting a paycheck again.
Due to this the site has to start paying for itself, at least until February or March. I'm already past the point where I can afford to pay for the site on my own, as I have to worry about coming up with the money for my insurance premiums and there's no money to spare. Currently our expenses are low, but they're going to go up before long if for no other reason than we're going to outgrow our hosting plan within 6 months at our current rate of growth. I don't want to stop the site from growing, I want to finish the site redesign (and start adding some features that are dynamic), get some of the other projects we have on the backburner finished and launched and update the Antenna with some new features. I think the site has great potential and can become an even greater asset to the Anime/Manga/Gaming community than it already is, and I have ideas for other sites I'd like to do as well. My financial situation should stabilize after a few months but I would like to take this opportunity to get the site self-sufficient for the long term. As I've been doing redesign of the main site I included AdSense ads in the design and also added a rotating banner section to put affiliate banner ads in. The AdSense ads are performing pretty well so far, they've had far more click-throughs than I expected and I hope they'll continue to grow as I add them to the rest of the site.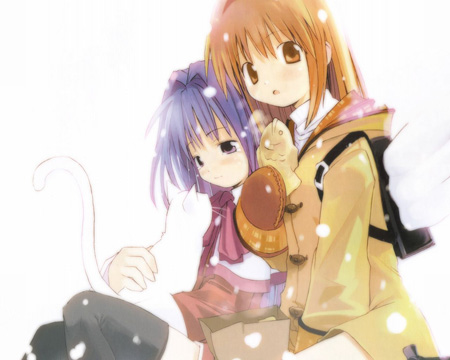 So what is going to change? Well the most important thing I've already mentioned — the site needs to pay for itself this month and the next few. The rest of the changes are more minor. I'll list them below:
I'll be adding Google AdSense ads to the Antenna, these will be kept unobtrusive.
I might add AdSense ads to the Forum, again they'll be unobtrusive if I do.
The Terms of Service will be changed to make the donation link required instead of optional.
The site will start actively asking for donations each month.
The donations link will be changing slightly. In the very near future the donations link will link to a donations page. On that page there will be a link to the old Paypal donations as well as the new Amazon Honor System along with an E-mail address that those who wish to donate by money order or cash can use to ask for a mailing address. The Paypal donations can be used only for hosting fees, it's processed by my hosting provider and they apply the balance to my bill. Anything beyond what's currently owed stays as a credit to be applied to the next bill. The Amazon Honor System donation link is better if you want to help out in general and not just for hosting (we need a decent Linux box to do some processing offsite of things like stats that take up too much CPU time to be done on the web server and to run a revision control system for our software projects for example).
We may request that users ask their readers to donate from time to time, although this will probably be optional.
We'll probably look into some add-ons that users can get for a small monthly amount as another way to generate some income. (These would be in addition to what users already get.)
If you'd like to help out the best thing you can do is donate! If you want to donate but can't use Paypal or Amazon's Honor System for whatever reason please contact me (Note: you will need to remove the obviously extra text from the address before you can send.) and I'll give you a postal address you can send a money order (or cash at your risk, I recommend money orders) to and tell you who to make it out to. (Currently there's not a bank account in the site's name, I'm working on that though.) Also be sure to use our affiliate links, whenever you buy stuff. We currently have Amazon US, Canada, Japan and UK; The Right Stuf International; YesAsia; PlayAsia; Jlist/Jbox; Netflix and Buy.com. Also please feel free to let others know about the site's situation and ask them to help if you like. Affiliate sales help but there's a long delay before the money from them is available. Even AdSense has a lengthy delay due to the minimum payout being $100.
If you donate using Amazon's Honor System please E-mail me to let me know. (Note: you will need to remove the obviously extra text from the address before you can send.) Amazon doesn't send me any notification of who donates and once I get the donations page up I want to start listing everyone who wants to be listed and how much they donated. Also let me know how you want your name/nick to appear on the page please.

I'm sorry I haven't posted about this sooner but I've been putting off writing this for a while now, partly because I didn't want to write it, but also because I was waiting to see how some things turned out with that promising interview I had. BTW, for those wondering, I will be posting more regularly in the future but I've been really busy working on the site redesign and some other things. The site's needed me to work on it more than write about it of late.