AnimeBlogger.net is proud to announce version 2.1 of their Antenna aggregator, with lots of new features focusing on customization of feeds and the interface. Customization features require registering for a free account and being logged in, but you'll be able to make the Antenna display posts from only the feeds, blogs and channels that you want to see! Read on for more detailed information on the changes and additions.
Update: We've had some reports that users were seeing oddities such as a hover border over icons. If this is happening to you, you'll need to force your browser to update its cached copy of the Antenna's stylesheet. To do this simply hold down the shift key while you click on refresh. Everything should look correct after that!
Note: Most screenshots have been resized smaller than they appear on the actual Antenna. Some links will not work unless you're logged in.
User Accounts
New with version 2.1 is user accounts. On the sidebar is a new section entitled "Login" where you'll be able to login after you have an account. To the right of the User field is a link to the registration page. Account registration is fully automated but requires E-mail validation. Below is a screencap of this new section of the sidebar:
Once you're logged in all the new customization features will become available.
Customizing Your Feed
Customizing your feed and the site works the same way, you just need to add the series, blogs and/or channels you want to your feed. Below is an example of how this works from the series list. In this screenshot you can see that I have Lucky Star and Mahou Shoujo Lyrical Nanoha StrikerS as part of my custom feed.
To add any series just click the checkbox next to that series in the list, once you've selected all the ones you want you simply scroll to the bottom of the page and click on the "Update" button. This will add all the series you selected to your list (as well as remove any you uncheck). You can also remove series/blogs/channels from your feed from under the "Edit My Feed" submenu of the "User" menu. This is the page you'll be taken to once clicking on update as well.
Adding channels works exactly the same as adding series, you go to the Channels section of the Antenna and can select which channels you want as part of your feed. Adding blogs works similarly, except you'll need to add them from the Last 2 Weeks section under the "Blogs" menu. This page lists all the blogs that have posted in the last 2 weeks.
To access your custom feed, simply point your RSS reader to http://antenna.animeblogger.net/feed/user/username/ If you prefer to use Atom then use http://antenna.animeblogger.net/atom/user/username/ Do note that the trailing slash is important, leaving it off will cause you to get a redirect to the URL with the trailing slash each time, making the feed load slower.
Channels
Channels are also new with version 2.1 and offer collections of feeds that are related. The "Main" channel contains all the feeds that display on the main feed by default, these are all English language blogs and non-hentai. The "AnimeBlogger.net" channel contains feeds for all blogs hosted by AnimeBlogger.net. We will be adding other channels as we have time, currently we plan to do Anime (blogs that focus primarily on anime), Manga (blogs that have a significant focus on manga), & Figures (blogs that focus significantly on figure collecting). We're open to suggestions for other channels and will add others as we think of them as well. If you think your blog belongs in a particular channel(s), feel free to let us know which one(s).
You can access feeds of each channel, just point your RSS reader to http://antenna.animeblogger.net/feed/channels/channelname/ Be sure to include the trailing slash.
User Preferences
Under the "Preferences" submenu of the "User" menu, users are able to modify how the site displays for them. Here you change the number of posts that will be per page, picking either 10, 15, 20 or 25 posts per page. Also, due to popular request, you can also turn off the display of excerpts as well as the section under excerpts that shows what series a post has been flagged with. The "Main Page" option controls what feed you will see when you navigate to the Antenna. If you select "Main Feed" you will see the normal main feed that you've always seen, however if you select "User Feed" you will see your personalized feed instead. Do note that if you click on "Home" while already at the Antenna you will be redirected to the Main channel. This is done intentionally so that you can still access the main feed even with the "User Feed" option selected. You may return to your custom feed at any time by navigating to the "User" menu, which will take you to the "My Feed" submenu by default. Additionally you can change your password and/or E-mail address on this page.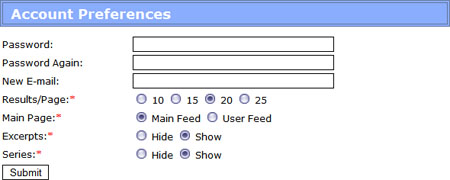 Below is an example of what the site looks like with both excerpts and series turned off: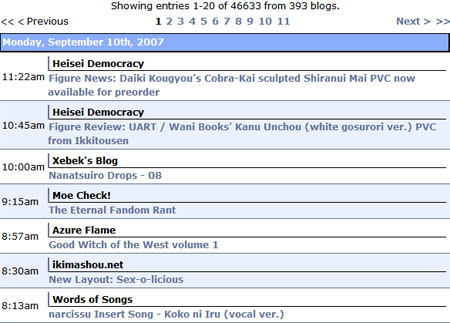 Blog & Series Icons
Another new feature for version 2.1 is blog and series icons. Each series has an icon and these icons will appear on the right of the series section along with the text links to series. Up to 4 series icons can appear, if there are more than 4 series then the top 4 ranked series are used for icons based on our series rankings. For each blog that has submitted an icon, one will appear on the right of the blog name/post title section. Blog icons link to the page for that blog, which I'll cover in the next section.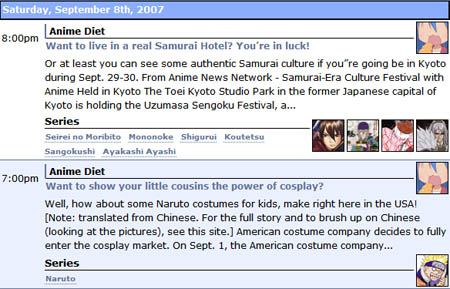 If you have turned off the series section then none of the series icons will appear.
Blog Pages
Similar to our individual series pages that the Antenna already had, each blog aggregated now has a blog page. On this page there is a description box that appears if that blog has submitted an icon and/or a description. In the description box the full-sized blog icon is used (128x128px) with the description text to the right of the icon.
We'd love to have icons and descriptions for every blog listed with us, please submit yours to antenna dash submissions @ animeblogger dot net. (Replace dash with a – dot with a . and remove all spaces.) Icons must be 128x128px in size and in PNG format. Upon approval your icon will be installed and show on all your posts on the Antenna.
Blog Cloud & Last 2 Week Views
Under the "Blogs" menu you'll find two different views, "Cloud View" and "Last 2 Weeks". In "Cloud View", ranking is currently determined by a custom measure of consistency in posting (both how often and how many posts made). Once we have more users we'll also be considering how often a blog is added to custom feeds in our ranking formula. Only blogs with a ranking of 0.1 or higher are shown in this view, so depending on activity levels only blogs from the last few days may be represented. In "Last 2 Weeks" view, the blogs listed here are only those that have made a post within the last 2 weeks and they are are ranked according to how many posts they've made.
XML-RPC Ping Server
This new feature is useful if you're wanting the Antenna to pull your new posts faster. To use it simply add http://rpc.antenna.animeblogger.net/ to the list of update servers your blog pings when you write a new post. In WordPress this is in the Dashboard under "Options" | "Writing" | "Update Services". You most likely will already have http://rpc.pingomatic.com/ filled in here, simply add our Ping Server to the list on the line below that one as shown in the screenshot below:
Any other blogging software can also use our Ping Server as long as it supports XML-RPC Pings. When using our Ping Server the Antenna will receive an XML-RPC ping whenever you publish a new post. It will then pull your feed and update the listings with any new posts.
Code Validation
We're pleased to announce that the Antenna fully validates as Valid XHTML 1.0 Transitional, Valid CSS, Valid RSS 2.0 and Valid Atom 1.0. Occasionally we get a post that has a bad character in it that causes the RSS & Atom validators to fail, but all content we control is valid.
FAQ
More of a minor addition but we've added a "FAQ" (Frequently Asked Questions) page to the Antenna. Currently there are only a couple of questions up but we'll be adding more in the near future, especially as we receive more questions.
Finally a couple of features that aren't new because they were in Antenna v2.0 but since we didn't announce them back in July when we switched over to 2.0 now's a good time to point them out.
Series Cloud & Last 2 Week Views
"Last 2 Weeks" view lists only the series posted about in the last 2 weeks ranked by a custom formula that tracks how actively a series is being posted about. This view allows you to more easily see what series are the most popular. Series "Cloud View" displays a cloud view of all series with font size varying depending on ranking. All series are listed here, not just those with posts from the last two weeks.